Soldering Machine For Led Soft Strip Light YS-8800
2 soldering irons work at the same time ,L1600*W1200*H1400 ,32 bit DSP, Soldering Machine For Led Soft Strip Light
Product introduce :
YS-8800LED soft light strip board soldering machine is a welding automation equipment dedicated to 5 meters LED light strip. The equipment is deeply humanized according to the characteristics of 5 meters LED. It replaces the artificial soldering work of various solder joints and solves the manual work. The welding spot is uneven, the welding is not uniform, and it is compatible with the welding of various types of LED flexible strips. The operation is simple and practical, and thequality and stability are greatly improved.
Product advantage:
1. Simple programming mode and operation box control the positioning of the moving welding head.
2. The welding speed is fast and the efficiency is high. One soldering machine can save 6-8 people.
3. Save the tin wire, waste the Wuxi wire, and the solder joints are even and consistent.
4. High-power heating controller to ensure the stability of continuous welding.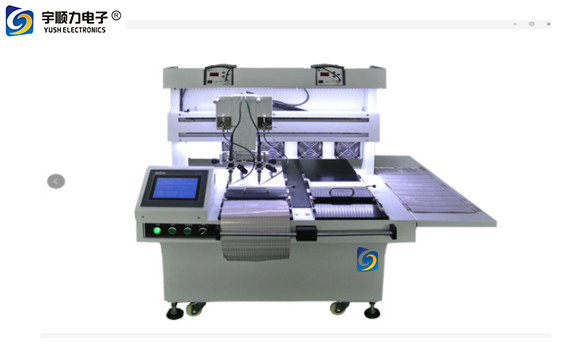 Specification:
| | |
| --- | --- |
| items | specification |
| Name | Double platform soldering machine |
| Model | YS-8800 |
| Control method | 32 bitDSP |
| Soldering head | 2 soldering irons work at the same time |
| work plan | X:600MM,Z:50MM,Platform 800MM |
| Accuracy | ±0.05mm |
| power | 600w |
| supply | 220V,50-60HZ |
| weight | 100KG |
| size | L1600*W1200*H1400 |