Grinding and dust removal workbench
Scope of application:
It is suitable for places with large and concentrated dust such as hardware grinding, Dali grinding, wood polishing, and auto parts grinding and polishing.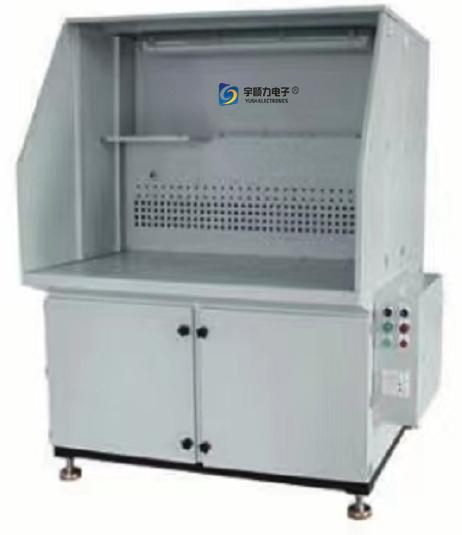 Main feature:
1. The brushless fan is adopted, with large air volume and low noise.
2. Pulse automatic blowing system can effectively clean the high-efficiency filter
3.16 square meters/32 square meters of filter area, filters with different performances can be selected according to the needs of the working conditions.
4. Dust shields and fire nets can effectively block grinding sparks and dust.
5. The honeycomb dust removal table can effectively clean the light floating and sinking caused by grinding.
6. Adjustable foot pads can adjust the height of the work surface according to the site conditions.
7. The switchable movable baffles on both sides have strong flexibility and can effectively prevent the overflow of fine dust.
8. The installation method of the rotary card filter is simple and convenient without tools for disassembly.
9.2.0 A series of treatments such as thickening sheet metal, drenching, high temperature baking paint, etc., the product will not peel off paint or rust.

Cartridge filter / Schneider Electric

Fire net/dust shield Both sides can open and close the shutter
Technical Data
Unit
YSL-1200D
YSL-1600D
YSL-2000D
Power
Kw
2.2
3
4
Voltage
V-Hz
380-50/60
380-50/60
380-50/60
Container capacity
L
60
60
60
Filter area
㎡
16
32
32
Filtering accuracy
μm
0.3
0.3
0.3
Qty of filters
PC
2
4
4
Airflow
m³/h
2000-3000
3000-4500
4000-5000
Vacuum
Kpa
1.6-1.0
2.0-1.2
2.2-1.6
Noise level
dB
74
75
76
Cable length
m
8
8
8
Product size
mm
1200*1300*1700
1600*1350*1700
2000*1350*1700
Filter cleaning method
-
Pulse cleaning
Pulse cleaning
Pulse cleaning
Explosion proof or not
-
No
No