One. Basic parameter Specifications:
1. Working range of sub-plate: 300mmx350mm
2. XYZ drive mode: ac servo motor
3. Number of movement axes: 7 axes
4. Program teaching mode: color ccd image intuitive teaching input
5. Operation interface: win7 window operation interface
6. Upper vacuum power: 2hp, lower dust collector power: 3hp (option 5hp)
7. Cutting spindle sycotec (Germany) : max80000rpm (automatic tool change)
8. X-Y ac servo speed: 0-1000mm/sec;
9. Z ac servo speed: 0-800mm/sec
10. X-Y repetition accuracy: ±0.01mm
11. Cutting accuracy: ±0.02mm
12. Ccd camera calibration accuracy: ±0.01mm
13. Plate stress value: 300uε below
14. Tool diameter: 0.8-2.3mm
15. Pcb board cutting thickness: 0.2mm-6.0mm
16. Main engine and dust collecting mechanical and electrical pressure: 220v 1φ and 3φ
17. Power consumption: 3.5kva
18. Static elimination gun
19. Vision system: high resolution digital camera
20. Drive motor: AC brushless servo motor
21. Mechanical fetching and releasing arm: anti-static vacuum suction nozzle
22. Feeding mode: rail transportation
23. Discharging mode: belt conveying or vehicle output or rail conveying
24. Load shifting mode: vacuum suction nozzle adsorption load shifting
25. Flow direction: left → right
26. Program backup: usb interface
27. Control mode: special controller
28 Dust collection cabinet size: 640mm×785mm×1760mm(d×w×h)
29. Machine size: 2014mm×1230mm×1650mm(d×w×h)
30. Weight of main engine + dust collector: 1000 kg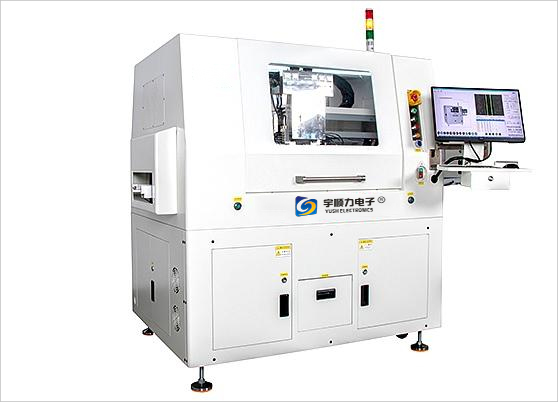 Two. Introduction to device configuration
1.Claw type plate taking structure
The product is clamped to the plate and placed on the processing platform. After the processing is completed, the clamping and placing track of the plate fixture is taken again and flows into the next process.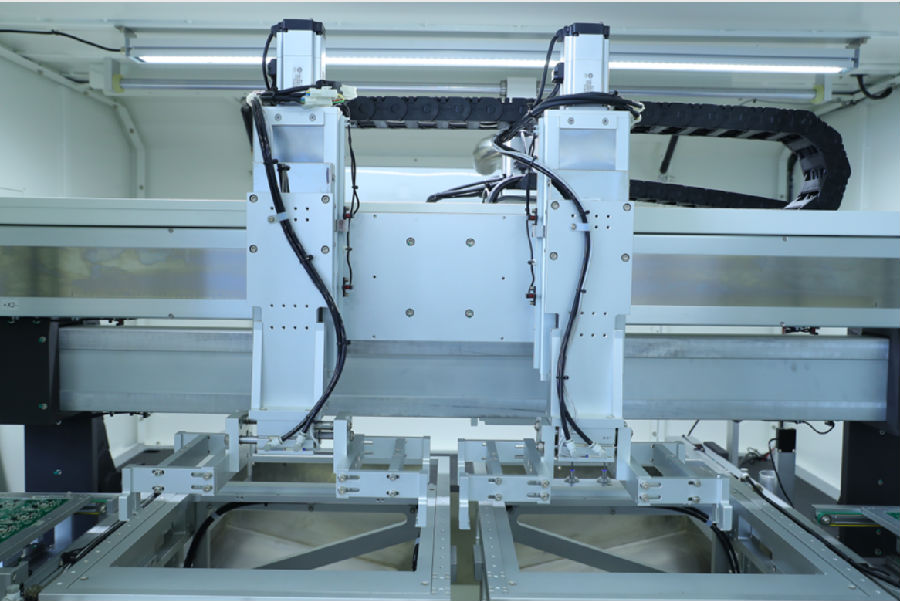 2.Special product split-plate fixture into the track way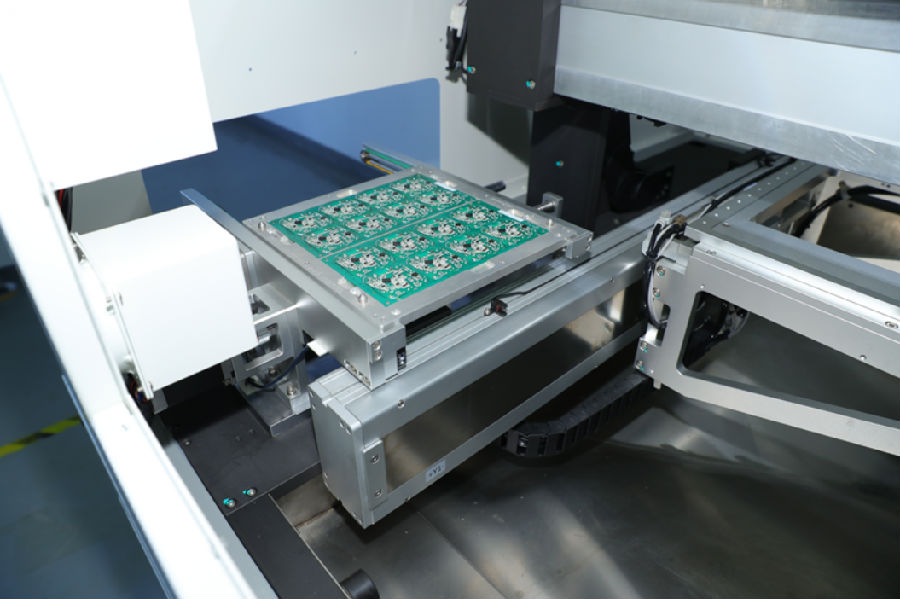 3.Special product split-plate jig track discharge
After the product cutting is completed by the online automatic plate splitter, the material clamping claw will take the entire product jig and place the discharging track to transport the next production process.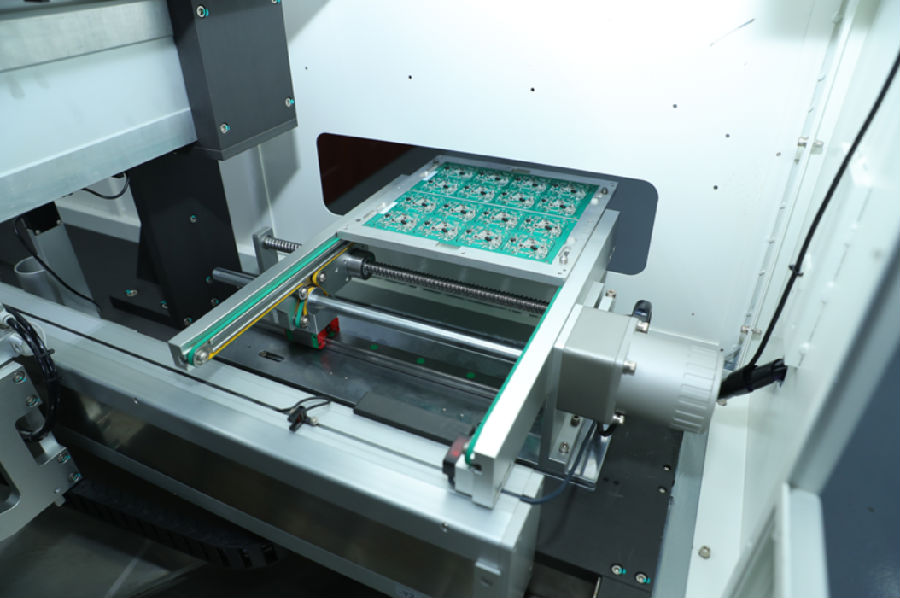 4.Automatic tool change mode
a. Adopt automatic tool change spindle imported from Germany. Save time, realize automation, reduce human factors, high precision, strong stability
b. Built-in five groups of milling cutter library, easy to automatically replace the milling cutter, to meet the needs of plate processing.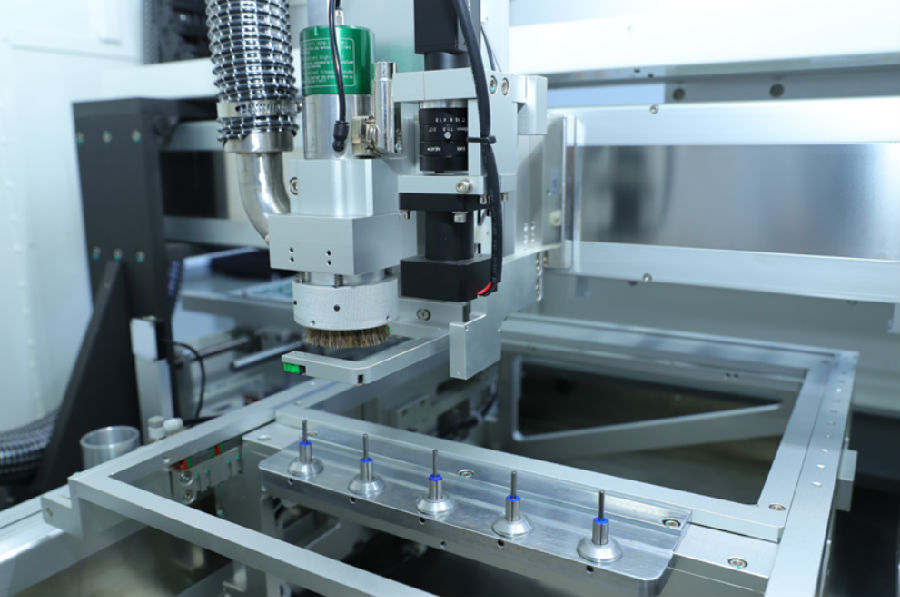 5.Vacuum suction plate taking structure
a. Take and release device: automatic loading and unloading (modular vacuum suction claw, vacuum device, can be independently controlled)
b. Transmission structure: X2 axis moves Z2, Z3 axis absorbs, AC servo motor controls.
c. Board speed: 0-1000mm/sec (adjustable)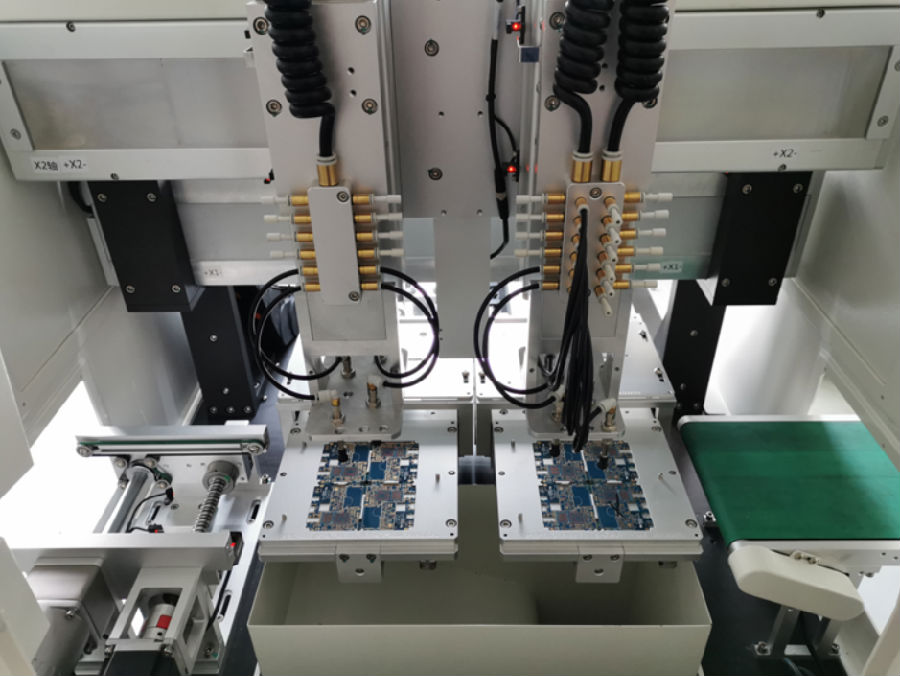 6.Special product jig tray discharging mode
Vacuum sucker feeding shaft to cut the product one-time vacuum suction, place the special product fixture to transport the next production process.